A page for collecting and discussing statistical analysis of metaheuristic optimization experiments.
In metaheuristic optimization experiments we measure the outcome of a stochastic process. From this measurements we hope to estimate the distribution mean of the outcome. The outcome usually is a certain quality or the time/iterations required to reach a certain quality. These outcomes are random variables with unknown distributions.
The goal in those experiments is to show that one process is able to achieve a better output than another process. There are several ways to show this:
Visual analysis methods
Statistical hypotheses tests for unequality of two means
Statistical Background
Statistical Analysis Methods
Single comparison
Multiple comparison
Visual Analysis Methods
In statistical analysis visual methods are often preferred. They can encode a lot more data and provide a clearer picture for expert human interpretation. Several possibilities exist, some have already been mentioned:
| Name | Example | Purpose |
| --- | --- | --- |
| Bubble charts | | Bubbles are fun! |
| Density plots / histograms | | Comparing/Estimating the exact shapes of the underlying distributions |
| Boxplots | | Compact and efficient comparison of distributions |
| Forest plots | | Comparing confidence intervals makes it probably a little more obvious if a result would be significant enough |
| Q-Q plots | | Estimating whether data fits a certain distribution |
Possible Workflow / Methodology
Testing data for e.g. normal distributions, equalness of variances, etc. to decide if parametric or non-parametric tests to apply
In case of multiple comparisons perform ANOVA, Friedman or other tests otherwise perform single comparison t-test, Mann-Whitney, etc.
In case multiple comparisons are significant use pairwise comparisons with post hoc analysis adjustments
One problem with such a workflow is that the error propagates in every step. So if testing for normal distributions has a certain error and ANOVA has a certain error, the final error would be a combination of the two. We should also identify and exclude cases where the application of tests would probably not be valid.
Critique
Steven Goodman. 2008. A Dirty Dozen: Twelve P-Value Misconceptions. Seminars in Hematology Volume 45, Issue 3, July 2008, Pages 135–140
Jacob Cohen. 1994. The Earth is Round (p < 0.05). American Psycologist.

​

http://ist-socrates.berkeley.edu/~maccoun/PP279_Cohen1.pdf
Hubbard, Bayarri. 2003. P-Values are not Error Probabilities.

​

http://ftp.isds.duke.edu/WorkingPapers/03-26.pdf
References
García, Fernández, Luengo, Herrera. 2010. Advanced nonparametric tests for multiple comparisons in the design of experiments in computational intelligence and data mining: Experimental analysis of power. Information Sciences 180, pp. 2044–2064. (

​

http://sci2s.ugr.es/sicidm/pdf/2010-Garcia-INS.pdf)
Salvador García, Daniel Molina, Manuel Lozano, Francisco Herrera. 2009. A study on the use of non-parametric tests for analyzing the evolutionary algorithms' behaviour: a case study on the CEC'2005 Special Session on Real Parameter Optimization. (

​

http://sci2s.ugr.es/publications/ficheros/2009-garcia-JH.pdf)
External Libraries
​

meta numerics implements some statistical tests (e.g. ANOVA, Mann-Whitney U, ...) but is licensed under the MS PL which is incompatible with the GPL.

​

Accord.NET /

​

AForge.NET: From the Accord.NET website: "Accord.NET is a framework for scientific computing in .NET. The framework builds upon AForge.NET, an also popular framework for image processing, supplying new tools and libraries. Those libraries encompass a wide range of scientific computing applications, such as statistical data processing, machine learning, pattern recognition, including but not limited to, computer vision and computer audition. The framework offers a large number of probability distributions, hypothesis tests, kernel functions and support for most popular performance measurements techniques." These libraries actually provide a lot of stuff which we don't need. Gladly the math/statistics parts can be extracted very easily (they are own assemblies). Accord.NET implements OneWayAnova, TwoWayAnova(1,2,3), T-test, Mann-Whitney Wilcoxon, Kolmogorov-Smirnov and a lot more. And they are both licensed under LGPL so we don't have a problem with licensing.
Links
Significant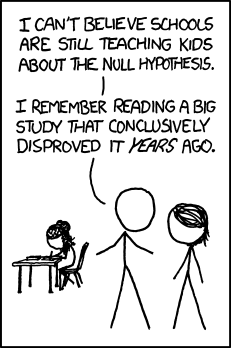 Attachments
(1)
Download all attachments as: .zip